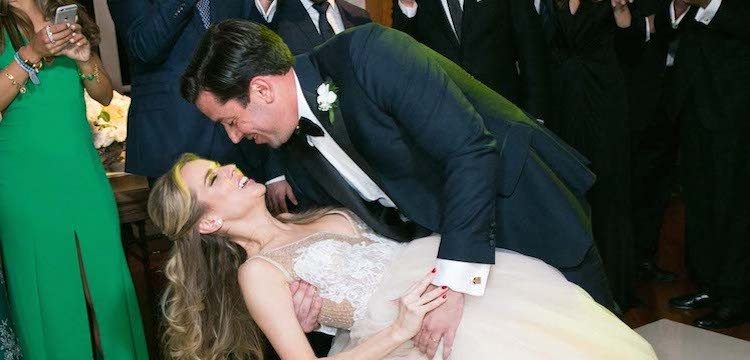 Grooms : Luisa Gouveia Rocha e Ricardo Elortegui
◊ ANTES DO CASAMENTO
Couple history: We met when we were children. I was 14 and he was 12. His older sister was my best friend and he then became my closest guy friend when we were in college.
Our first kiss was when we were still friends after a night of drinking, I woke up the next day and freaked out because i had kissed my "best friend". Rick ktruied dating me and I was not ready so we didnt talk for about a year and a half. He had another relationship and after that ended, he contacted me to go out for dinner and we started dating from that point on and ended up married.
We love to travel, go out to eat, go to the beach, visit new places around the city we live in, Miami, and just have a good time.
Marriage proposal: He asked me to marry him on a Saturday, January 17th, 2015. The following Monday was a Holiday and he told me he had to go to the bank early that Saturday. I stayed sleeping. He woke me up with roses in one hand, the engagement ring on the other and he was on his knees. I woke up and was upset for being woken up, then happy and then I cried. It was a rollercoaster of emotions. We later went to see our families to have dinner and celebrate our engagement.
◊ WEDDING
Before the wedding: I chose my wedding weekend soon after we got engaged. We wanted a long weekend because we wanted to get married in Rio de Janeiro and we live in Miami, so we wanted our Family and friends to get to enjoy my home town but not have to take too much time off. We were married on the weekend of Thanksgiving which is a 4 day Holiday weekend in the USA.
The preparations were fairly easy although very detailed. My grandmother is one of if not THE pioneer of wedding and event planning in Brazil and she provided all the vendors and my mother and I put the whole wedding together. Pintrest served as a big help for inspirations. The wedding planners were my mother and I. I went to visit Rio three times before the wedding and each visit would be a week long and I picked everything out and my mother took care of the rest. She was the one who did most of the work, i just picked out what I wanted, she set it all up and made it the incredible and magical night to remember forever.
Wedding dress: My wedding dress, by Inbal Dror, I picked out from picturesI saw on Instagram of the bridal fashion week in Paris. I saw it on the runway and fell in love. I didnt want to get married in White and my dress was nude with White lace details and beading through the top and perfect. My stylist was my sister in law, Sophia Elortegui. She made me wear a veil since I was getting married in church and although at first I didnt want to, the veil we designed turned out beautiful and I am happy I wore one. My veil was a chapel length nude veil with the White lace at the ends matching the details of my dress and a blusher down to almost my waist. I didnt want a short blusher. It turned out BEAUTIFUL!
My recomendation to any bride is, contact someone you know who is a bridal stylist, pay the stylist fee because its Worth it. The smallest of details we may not be aware of, these experts will know and help you with and they negotiate everything for you.
Accessories: I wanted very simple accessories. I wore a swarovski headpiece that was simple and classic and my mothers diamond earrings. I wore blue underwears that said "I do" for something blue. My shoes were satin Miu Miu and matched the color of my dress with swarovski crystals on the top.
Making of: Rick and I rentes a penthouse and I got dresses with my mother, my two sisters in law and my niece (my flowergirl). Rick left the house the night before after we had dinner together. We didnt speak all day and we werent nervous.
Ceremony: Since the first time I took Rick gávea golf and country club, he told my parents and I that is where he would like to have our wedding. I was not even engaged at the time. Gavea holds a very special place in my heart. I grew up in Rio de Janeiro until I was 8 years old and some of my youngest and best memories were created there.
The chapel was a cute chapel my mother loves and told me about and when I went to see it, I fell in love. The priest was from the school I went to and he spoke english, Spanish and portuguese, so that was perfect since Rick is Cuban American.
Groomsmen and bridesmaids: Padrinhos e Madrinhas in the US is a little different. I invited my closest friends and rick invited his closest as well. My bridesmaid didnt really have a dress code. I told them to dress in any solid colored long dress and then groomsmen as well as the men in the Family were told to dress in black suits with White shirts and the groom gave as a presente to them, a black skinny tie with each groomsmen and man from our immediate families initials.
Flowergirl and pageboy: My flowergirl is my niece, who is 6 and my rins boy was my nephew, who is 1yr and 7 months. The girl wore an ivory dress with a burgundy sash and the boy was in a linen beige overall with a bowtie and a White shirt and White Oxford shoes.
Venue: The reception was perfect. The food and service were spectacular and the decorations turned out gorgeous!
Decor: The lady we had in charge of the decorations the day of is Grecia. She worked alongside my grandmother for years and took charge that day since my mother would be busy with me. I wouldnt change anything about my wedding.
Music: The DJ had played at one of my bridesmaids wedding and I loved him. When we found out he was available for our wedding date, I was so happy and we booked him right away. He was amazing and so much fun.
The song that probably was the most significant was the first dance song, Elvis' "Cant help falling in love" but the one that most will remember was "Turn down for what" because my 6 year old niece controlled the crowd dancing.
Foto: Aszmann

Foto: Aszmann

Foto: Aszmann
Buffet: The food was from the club. It was delicious. Sushi is my favorite food and we made sure to have a sushi bar. It was a buffet style dinner. I ate while changing my hairstyle and I ate sushi at the wedding with everyone.
We had a full bar; champagne, whiskey, vodka, tequila, rum, etc. Everything pretty much.
Guests: We had 180 guests RSVP. There were over 300 invited. Being so far for the Americans and Europeans, a lot unfortunatelly didnt make it.
There were a few people that were not present and missed greatly but we know were with us in spirit and in our hearts.
◊ AFTER THE WEDDING
Honeymoon: We went to Fernando de Noronha and stayed in a bungalow in Pousada Maravilha. The island. Is Paradise and very adventurous. I would highly recoomend it to anyone who enjoys the island Life and beaches.
Gifts: We are in the process of sending out thank you cards to every person who sent a gift. They are all hand written and personalized by groom and bride.
Vendors list:
✓ Cerimonial e Assessoria – Priscila Rocha com ajuda da mãe, Helena Brito e Cunha
✓ Celebrante – Padre Andre (OLM)
✓ Local da Cerimônia – Capela de Santa Ignez
✓ Local da Festa – Gavea Golf e Country Club
✓ Vestido de Noiva – Inbal Dror
✓ Véu e Grinalda– Desenvolvido pela noiva e pela stylist (Sophia Elortegui) na Ever After
✓ Cabelo e Maquiagem – G. Junior
✓ Sapatos – Miu Miu
✓ Buquê e Lapela dos padrinhos– Dona Edla
✓ Alianças – DVF Diamonds (Seybold Building Miami)
✓ Música Cerimônia (Coral, Orquestra) – Violinos Mágicos
✓ Música Festa (DJ, Banda, Sax, Bateria) – Guga Weigert
✓ Foto e Filme – Aszmann
✓ Buffet – Gavea Golf Country Club
✓ Decorador – Priscila Rocha e Luisa Gouveia Rocha
✓ Iluminação – Ratinho Light e Two Lights
✓ Mobiliário – Lonarte
✓ Flor – A Roseira; Seu Joaquim
✓ Plantas – Silvia Coimbra
✓ Louca – A festa é nossa
✓ Bolo e Doces – Glacê Real – Luiza e Junior
✓ Toalhas de Mesa – Ruth Dourado
✓ Bem-casados – Olenka e Elvira Bona
✓ Velas – Eliana Lipiani
✓ Lembrancinhas – Havaianas
✓ Convite e identidade visual –Just Bee
✓ Carro – Conduzindo Noivas
✓ Roupa do noivo – Sartori Amici (Custom Tuxedo)
✓ Lua de mel – Fernando de Noronha
✓ Lista de presentes – simpleregistry.com